The Pindah Phone Pouch is the ideal companion for backpackers and urban commuters. It's scaled to fit iPhone 13 Pro Max and other Android smart phones of similar size. The Strap & Clip system on the back is ideal for attaching to all Ethnotek backpack shoulder straps so your pockets are free and the phone can be accessed easily and quickly. The pouch also has a zipper pocket on the front to fit, sunglasses, lip balm, passport, keys and other small accessories. The padded back wall on the inside has an elastic mesh pocket to keep your phone safe and secure and is lined with anti-scratch poly-tricot material. There is also a slip pocket on the front-inside wall of the main compartment for cards and receipts. If you have an Ethnotek backpack, be sure to get a Pindah Pouch as well for the ideal urban & outdoor exploring combo!
Who made me?
The Benefits Of Ethnotek
NO HARMFUL CHEMICALS
SOCIALY RESPONSIBLE
WATER RESISTANT
ARTISAN MADE
VEGAN
SLOW PRODUCTION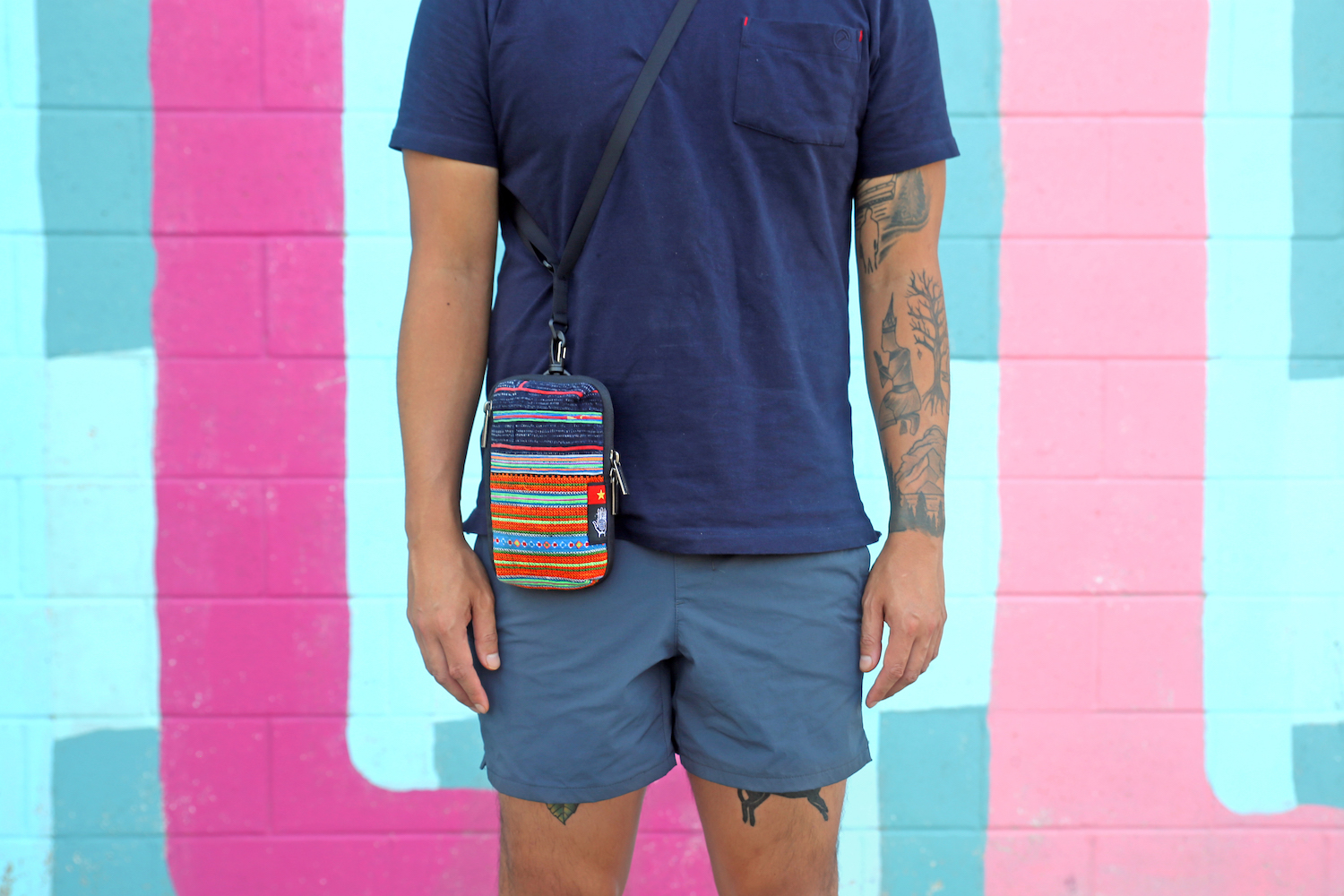 Pindah Pouch name
'Pindah' means 'move' in Indonesian and is fitting to a phone pouch that's specifically designed to support your life on-the-move!
Pindah Phone Pouch Tech Specs
• Padded phone sleeve fits iPhone 12 Pro Max and Android Phones of similar size.
• Front zipper pocket for sunglasses, keys, phone charger, lip balm and other small accessories.
• Strap & Clip system on back for attaching to backpack shoulder straps.
• Internal slip pocket for cards and receipts.
• Water resistant 600-denier recycled PET base & back panel fabric.
• 210 denier nylon lining
• YKK® zippers.
How big is the Pindah Pouch
Dimensions:
12cm x 19cm x 5cm (4.8" x 7.6" x 2")
Phone Fitting:
iPhone 13 Pro Max and Android Phones of similar size
Material Composition:
80% Polyester 20% Cotton
Weight:
5.7oz (162gr)
Volume:
0.9 liters
Back To Top