The Anju 15 Waterproof Backpack has a built-in seam-sealed rain cover that totally protects your gear if you are commuting while wearing the pack and suddenly get caught in the rain or snow. It's innovative side-peal zipper allows maximum access to the main compartment. The front zipper pocket with built-in organizer, stretch mesh water bottle side pocket and comfy padded shoulder straps are just a few more features that make this backpack so awesome and versatile. Safety & security never looked so stylish!
Who made me?
The Benefits Of Ethnotek
NO HARMFUL CHEMICALS
SOCIALY RESPONSIBLE
WATER RESISTANT
ARTISAN MADE
VEGAN
SLOW PRODUCTION
Waterproof Backpack Features & Benefits
The Anju Pack 15's slim and discrete format sits nicely on the back without any bulk and is great for minimalist urban commuters. It's a great bag to take shopping or light day trips through the city and it has a built-in rain cover for extra protection from the elements. It has a front zipper pocket with built-in organizer, a stretch-mesh expanding side pocket and padded contoured shoulder straps.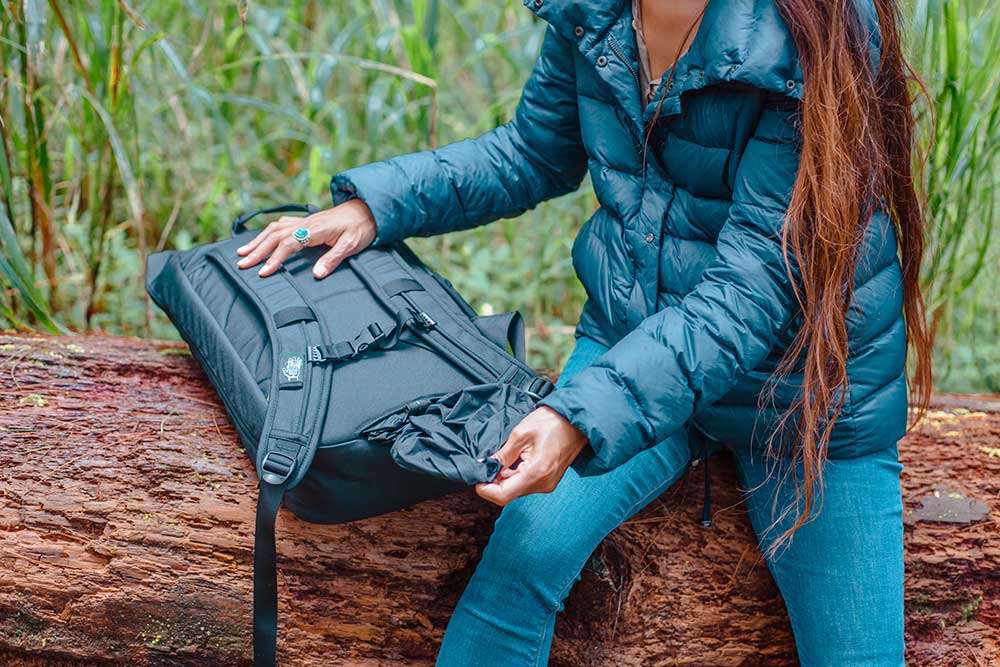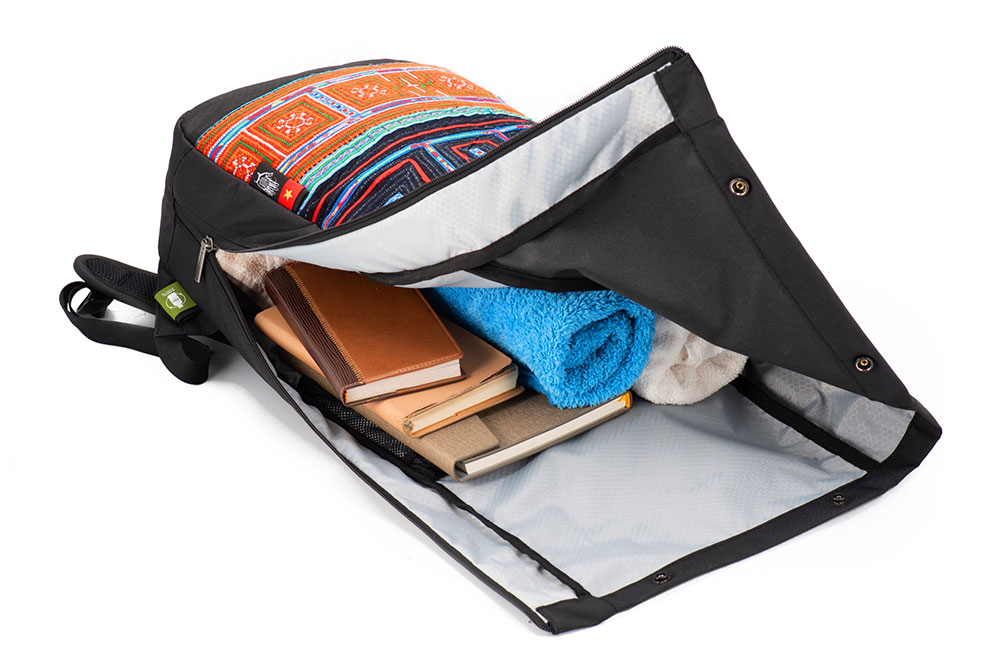 Maximum Access to your Waterproof Backpack
Our favorite feature of the Anju Waterproof Backpack is its side zip that runs all the way up the entire bag, which allows you to peel the bag fully open for maximum access to the inner contents and protective 15" laptop sleeve. A feature that's ideal for quickly accessing something from the bottom of the bag during trips to the farmers market, grocery store, office or class.
Name: 'Anju' is a Bahasa Indonesian word that describes the action one makes just before they start running. Fitting that the name represents movement, a great analogy for the travelers and commuters out there.
Eco-friendly Waterproof Backpack
To complete the package, the Anju Pack's main bag material is made from 100% recycled plastic bottles, making it an eco-friendly companion that has your back! The handmade artisan fabric is 100% cotton and, webbing straps, trims, buckles and internal rip-stop lining are made from ultra-durable nylon.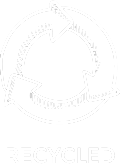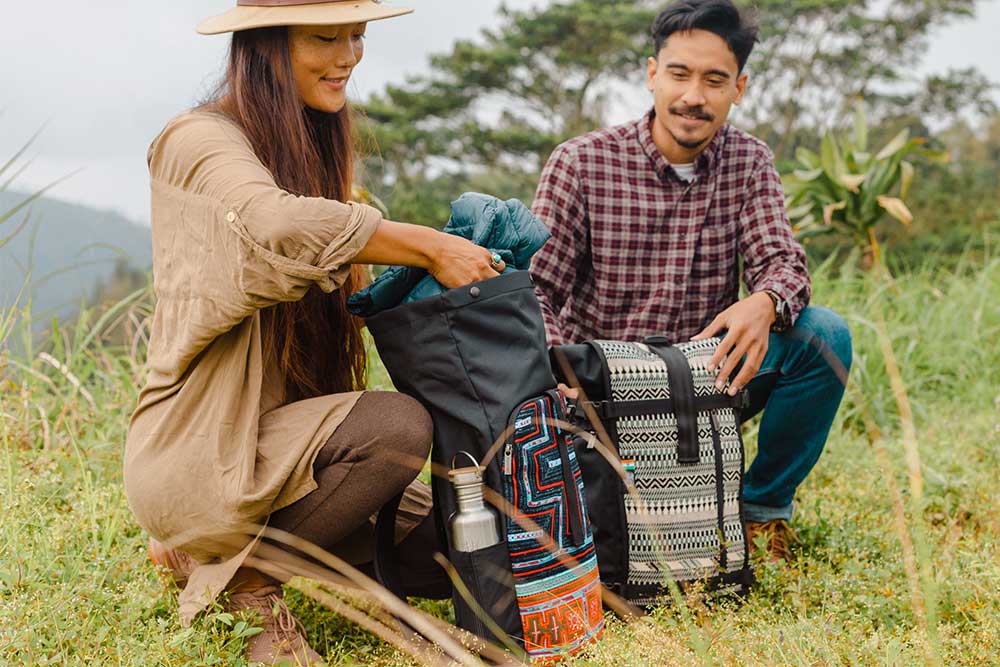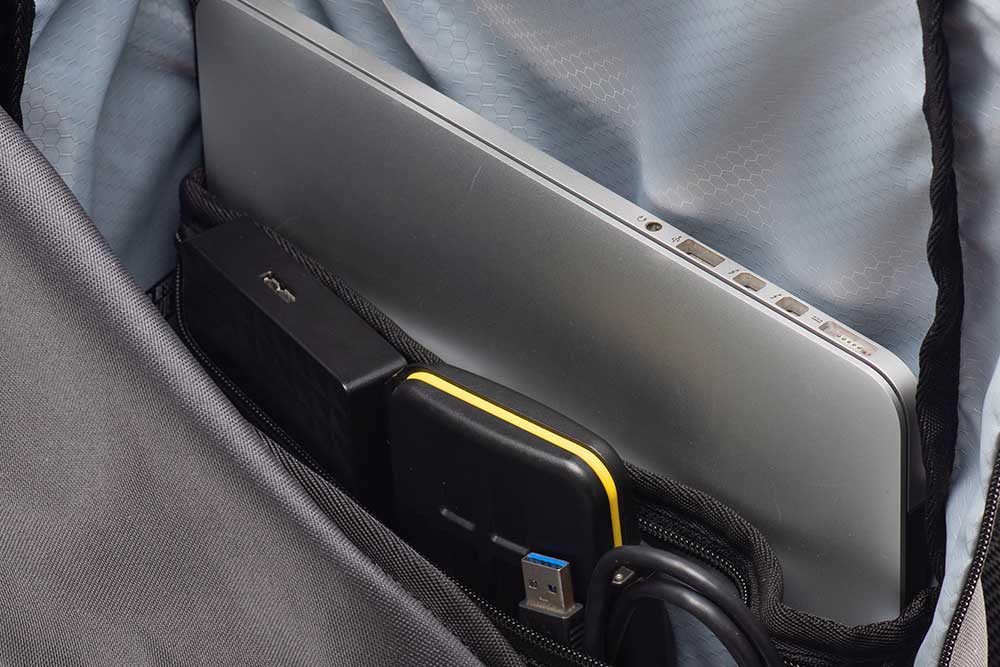 Handy Waterproof Backpack Features
Eco-friendly 600 denier water repellent PET main bag fabric is made from 100% recycled plastic bottles
15 liter roll top access main compartment
Padded laptop sleeve fits 16" MacBook Pro and most 15" PC laptops
Front zipper pocket with built-in organizer
Stretch-mesh expanding side pocket for water bottle, umbrella or other quick-grab accessories.
Waterproof Backpack Materials & Specs
Main compartment side zipper to peel the bag fully open
Internal zipper mesh pocket for small accessories
Padded & contoured shoulder straps to ergonomically fit all body types
Built-in rain cover
YKK zippers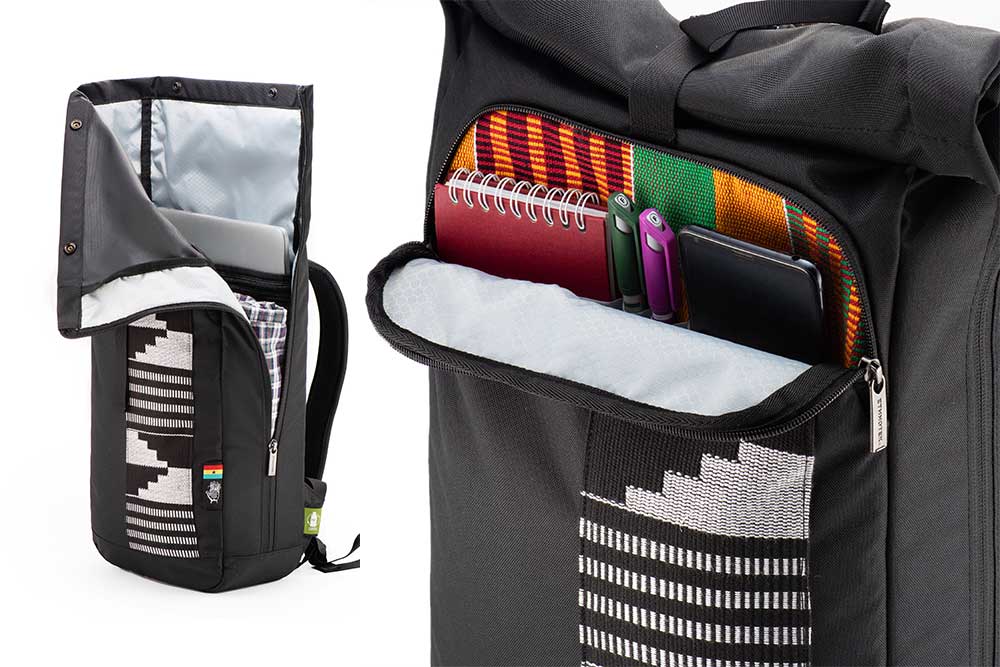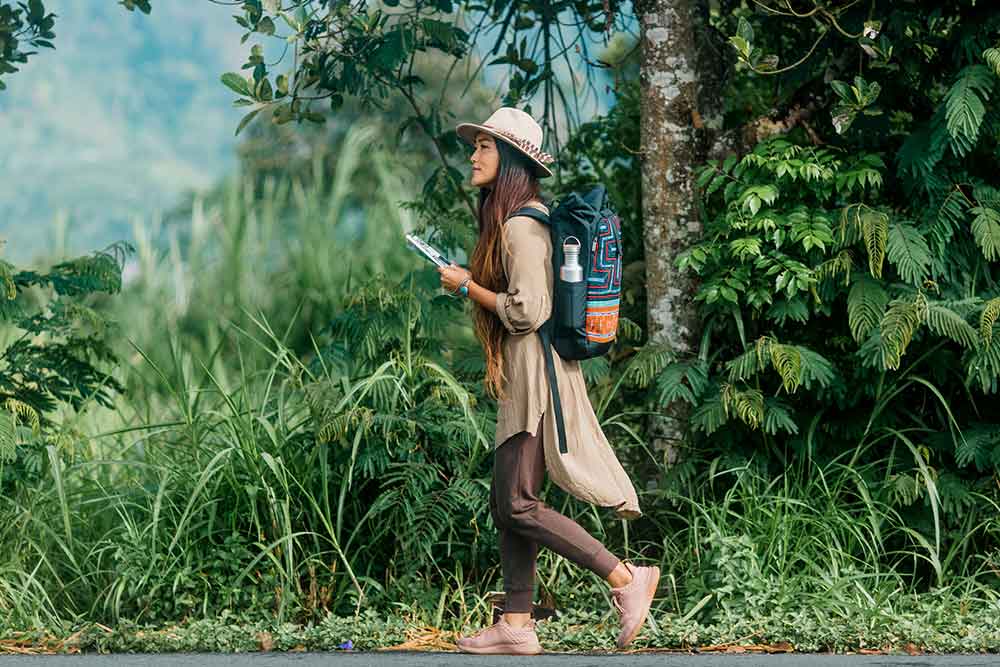 Waterproof Backpack Size & Weight
Dimensions:
10.8" x 18.4" x 4.8" (27cm x 46cm x 12cm)
Weight:
1.4lbs (0.7kgs)
Volume:
15 liters
Waterproof Backpack Cover
The word 'waterproof' is a bit controversial in the bag world, but it all comes down to how you use the bag. All of our backpacks are recommended for daily use while urban commuting, work or studies, hiking, camping, playing outdoors and travel. Our bags thrive in these environments and our seam-sealed waterproof backpack rain covers work extremely well while you're wearing the pack and get got in the rain. We do not recommend swimming with the bags or doing hardcore high-performance activities like river crossings, canyoning, mountaineering or ultra-marathons. For more info about our other waterproof backpacks, you can check them out HERE.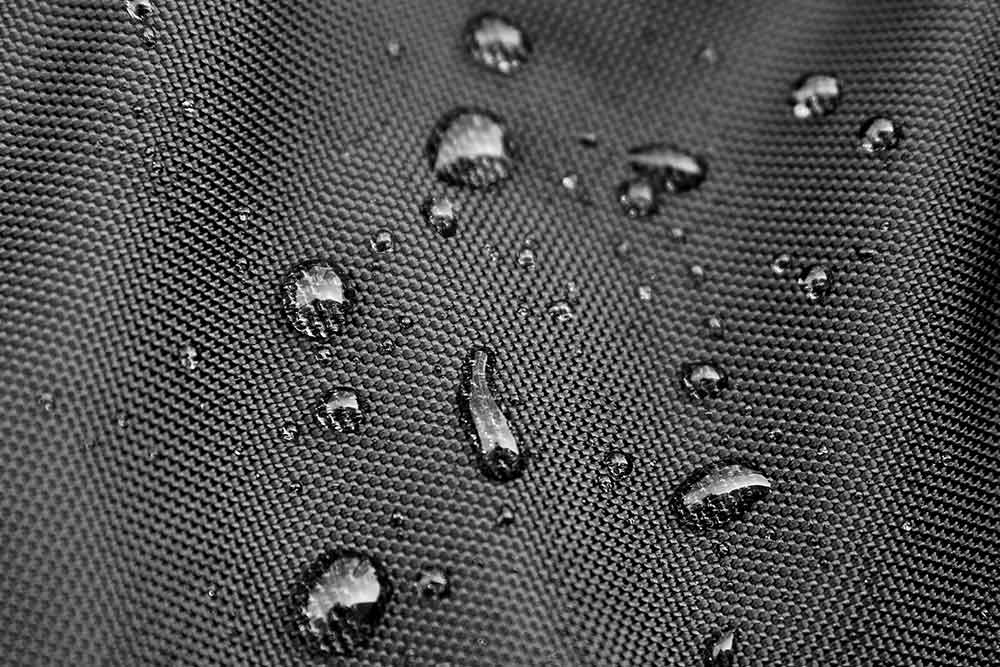 Waterproof backpack for college
We have a lot of people asking about waterproof backpacks for college and we think the Anju Pack 15 is a great fit for those who are. Not only because it has a waterproof backpack cover, but many other great features. For example, when you're commuting to and from class, or studying at home, you need a bag that can easily stand on it's own next to you while you work. The Anju has a flat & padded base and will always stand at attention beside you. This is ideal for those who like to keep everything organized inside the bag and front pocket, while having the ease of grabbing things in and out as needed, which Anju is great for. Even though everything is going digital, a lot of students still carry lots of books and paperwork, in addition to a laptop and tablet, which can get really heavy. This is why the Anju 15 Waterproof Backpack for College has padded and contoured shoulder straps, with a quick-release sternum strap. These ergonomically designed straps hug your body better and the sternum strap distributes load to reduce neck strain. And of course, the main compartment side peel zipper as shown above! We all know what it's like to be late for class or a meeting, which usually leads to haphazardly throwing stuff into your bag in a rush, but what happens when you need quick access to something that you realize is way at the bottom? No worries, simply lay the bag on its back and zip open the maximum-access side peel for quick access to the bottom or middle of the bag. Super handy when you forget where everything is or are just feeling a bit lazy too.
Read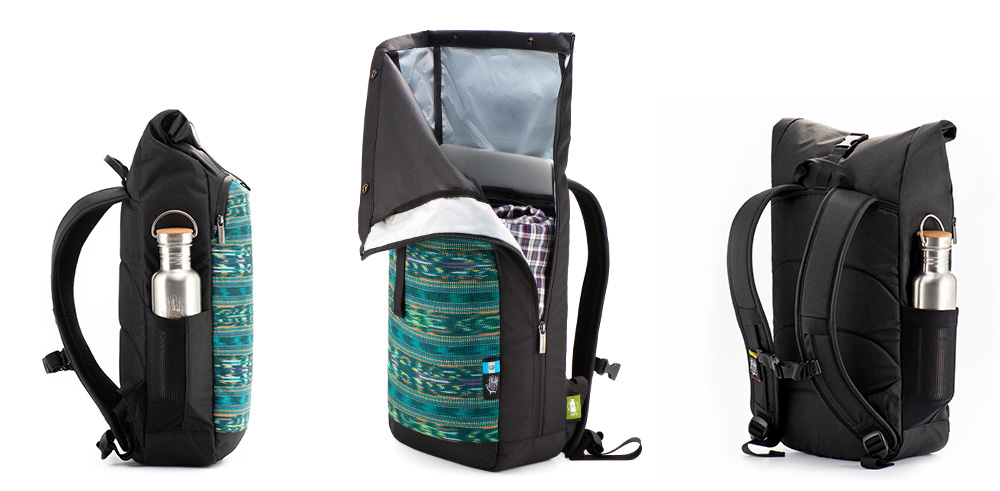 Back To Top